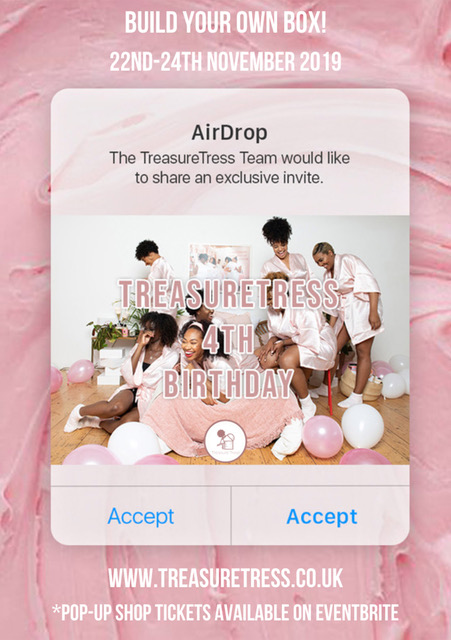 Whether we are sharing conditioners, vision boarding protective styles or arguing over bobby pins, the natural hair community has always felt like a family, and the TreasureTress tribe is no different. To celebrate our 4th birthday, we are inviting our tribe over to our house, and giving them a first-hand experience of how TreasureTress live. Our house is your home, and we'll be opening our doors between Friday 22nd – Sunday 24th November 2019 in our London home for the ultimate brown skin girls link up.
Exchanging staple household goods and products for all things hair and beauty, we're giving our guests the opportunity to build their own bespoke TreasureTress box, with expert advice from The TreasureTress tribe and a collection of Influencers with a combined social media reach of over 5 million followers. Building community and sharing experiences is crucial to our sisterhood, providing safe spaces to talk, create memories and connect.
Over 3 days, Mini Me's, Tweens and Qweens can enjoy an inspirational selection of panel discussions and workshops, alongside practical live demos from on best hair practices for naturals to cocktail making, and for one day only, we'll be inviting the boys to the yard. With a growing passion and responsibility to celebrate and cater to black women, we are Still no longer exchanging our hard- earned cash for mediocre experiences.
Welcoming our online community – offline continues to build a lifestyle around self care, support, and sisterhood and there's no better place to do that, than home. Our house is your home – Welcome to the Home of TT.
Ends.
Notes to Editors: Further ticket information to be published on the TreasureTress website and social platforms. Follow TreasureTress on Facebook, Instagram and Twitter, and subscribe on YouTube. For more information, please contact Candace Oxley at Candace@treasuretress.co.uk. About TreasureTress TreasureTress is Europe's first and largest natural hair product discovery box, where sisterhood connects over kinks and curls. As experts in the natural hair space, TreasureTress navigates the sea of natural hair products to handpick a bespoke selection of hair gems to ship to Mini Me's, Tween's and Qweens globally on a monthly basis. http://www.treasuretress.co.uk.