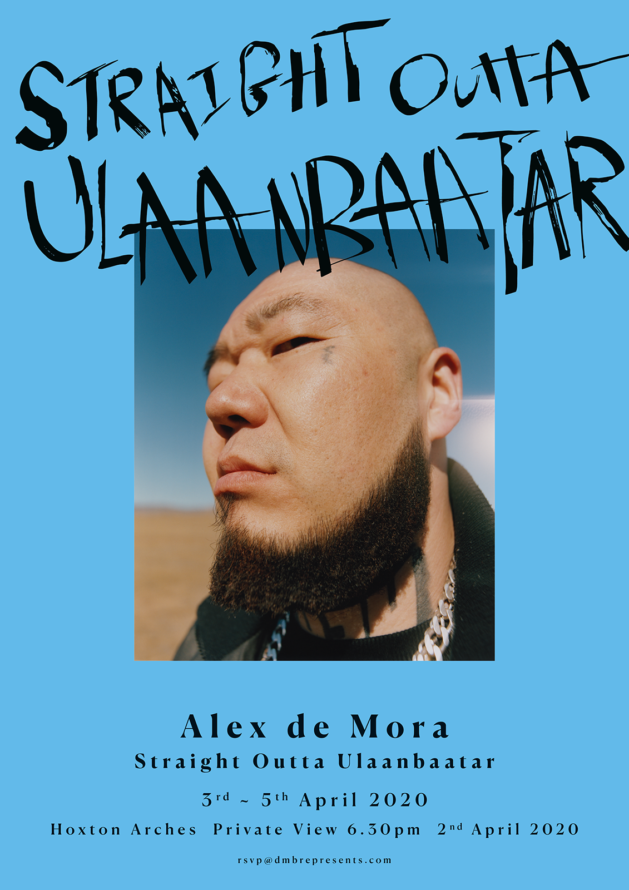 Save the date! Excited to announce Alex de Mora's first book, exhibition & short film documenting the city of Ulaanbaatar, Mongolia and it's hip hop scene.
The private view is at Hoxton Arches on Thursday 2nd April (show running until Sunday 5th April)
RSVP: rsvp@dmbrepresents.com
In October 2019, London based photographer and director, Alex de Mora travelled to Mongolia
on a self-funded trip to document the city of Ulaanbaatar and its undiscovered hip-hop scene.
This unique cultural insight into the city, music, and the people of Ulaanbaatar has been brought
to life with an exhibition, book and short film.
Mongolian hip-hop emerged in the mid 1990's not long after the fall of Communism. As MTV and
US Hip Hop made its way into Ulaanbaatar, its citizens shared mixtapes, and were inspired by acts
such as 2Pac, Snoop Dogg and Wu-Tang Clan. "Straight Outta Ulaanbaatar" introduces us to
Mongolian rappers young and old, as well as the people and the atmosphere of the city itself.
Alex met and shot local characters, up and coming rap artists, b-boys and record store owners to
get under the skin of the Mongolian hip-hop scene.
A continuing thread of the project is Alex's interactions with Big Gee, perhaps the most famous
and outspoken rapper in the country. Known for his fierce national pride and anti-government,
anti-mining stance, Alex spent considerable time with the man "more popular on social media
than the president". Following him around Ulaanbaatar, he saw where he grew up, as well as
being taken to the countryside/steppe outside of the city, including the iconic (and enormous)
Genghis Khan statue.
Private view: Thursday 2nd April 2020 open from 6.30pm
Drinks provided on the night
Show running daily until Sunday 5th April
rsvp@dmbrepresents.com
There will be an additional talk and Q&A with Alex and members of the team involved on
Saturday 4th at 3pm.
This hand printed photo exhibition, book, and short film directed by Alex, is entirely self funded
and self produced. The 100-page hard back book, is limited to 250 copies, hand numbered and
signed.
Press images available to download: https://we.tl/t-Rp3CDatNri
Hi-res available upon request studio@alexdemora.com