---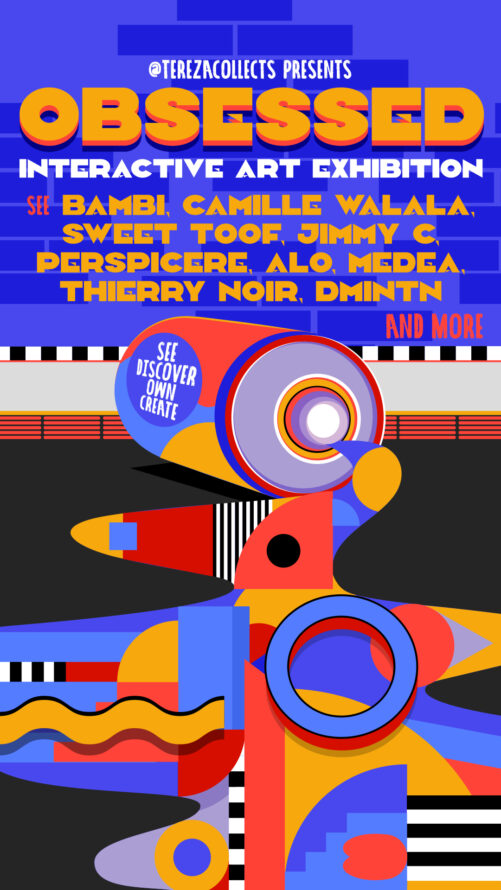 Tereza Kureckova aka Tereza collects presents: "I am obsessed". Obsessed with street art and art created by women. Over the last decade, I've amassed a truly eclectic collection of art in all its forms, from sketches and drawings to spray painting, objets d'art, and sculptures. If you've ever taken a stroll through Brick Lane, you would have seen many of 'my' artists on its walls and I now invite you to view their art in a different, deeply personal context.
Come see originals from East London legends like Bambi, Jimmy C, Camille Walala, Thierry Noir and Sweet Toof. Enjoy a tongue-in cheek royal parade featuring Nathan Bowen or Pure Evil. Finally, slow down with a boudoir-like display of the female nude, showcasing works from Deanio X, Samantha Rueter and Angela Wooi.
The vision for the exhibition is to "See – Discover – Own – Create". You'll experience this collection alongside several of the artists on display. Medea will be sketching throughout the event. Seize this opportunity to connect and engage.
Further details of the agenda are in the works. The final program will be released closer to the date.
Tickets available https://www.eventbrite.co.uk/e/obsessed-interactive-art-exhibition-private-street-art-collection-tickets-623825778697